Mausritter
Zines printed, minor updates to rulebooks, reviews
---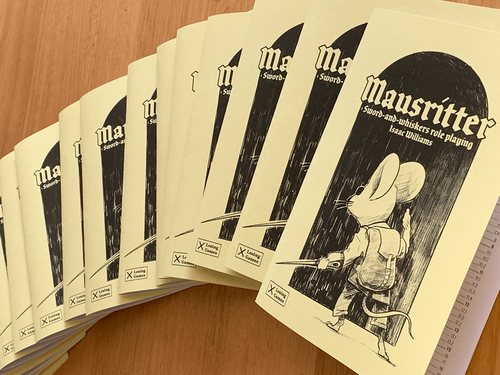 First off, thanks everyone for your support of Mausritter! I never really thought many people would be interested in the little zine based on my homebrew hacked together rules, but it's been really cool to see other people enjoying the game.
Glaucus Hauriant wrote a very nice review of the game, including an excellent summary of the types of play that Mausritter is good for, and what it isn't.
I've made some small updates the to the rule books:
a handful of typo fixes
a small clarification to the rules for dying
a couple of little tweaks to the Mouse Background table to improve the variety of starting gear.
Finally, the zines are fresh off the printer, folded and almost ready to send out! I'll be doing some additional printing of inventory items and conditions and stuffing envelopes this weekend, and hopefully start sending them out next week! I'm excited to get these in your hands — the book was designed for print and use at the table from the start, so it's where it's really at home.
If you're interested in getting a zine and missed out on the first 25, please leave a comment below — I'll most likely be printing another batch soon so would be great to judge interest for how many to make up.
Files
Mausritter rulebook (spreads)
6 MB
Nov 28, 2019
Mausritter rulebook (singles)
6 MB
Nov 28, 2019